The Winfield RV Products Fifth Wheel Landing Gear Cross Brace Stabilizer utilizes two expandable heavy gauge steel tubes to create a box truss between the fifth wheel landing gear legs. The tubes are easily tensioned by merely twisting the tubes until they are hand tight. Using the Cross Brace Stabilizer, with locking wheel chocks, will eliminate nearly all of the trailer's unwanted movement. 


A LIMITED LIABILITY COMPANY
Permanent Installation:  The Cross Brace Stabilizer can be permanently installed on your fifth wheel RV in minutes, utilizing the provided hardware. Installations require just a few basic hand tools and generally does not require drilling or RV frame modifications.
Ease of use:The Cross Brace Stabilizers fold up with the landing legs and are suspended during travel, so set up only takes a few seconds. Level the fifth wheel as usual, install the stabilizer pin clips and twist each rod until hand tight.
Price: The Front Cross Brace Stabilizer is a great value at a suggested retail price of only $189.00. Order online to receive FREE shipping and handling to the Continental US. Orders shipped outside the Continental US are subject to a $30 shipping fee plus any applicable import duties and taxes.
If you order a Front Cross Brace Stabilizer and a Rear Scissor Jack Stabilizer together you save $20 by using the pull down Options Menu below
For durability Landing Leg Stabilizers are powder coated BLACK in color.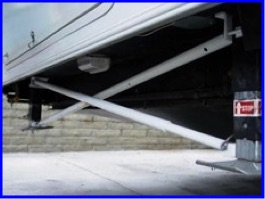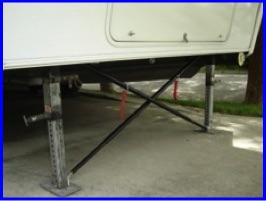 Landing Leg Cross Brace Stabilizer