A LIMITED LIABILITY COMPANY
The Winfield RV Products Stabilizing Wheel Chock is inserted and tensioned between your trailer tires to substantially reduce unwanted forward and backward trailer movement. They work on all terrains and do not interfere with the use of leveling blocks.
The Winfield Stabilizing Wheel Chock is made of durable rust proof 5 mm aluminum bar and galvanized steel pads which will provide years of quality service. Our comfortable molded handle and dual threaded rod allow for quick and easy tensioning.
Our four pad design utilizes and applies the opposing rotational forces of the tires to more effectively eliminate unwanted trailer movement.
The winfield Stabilizing Wheel chock is designed to work on trailers with 15 or 16 inch rims and they adjust to fit narrow tire spacing
1 1/4"  up to 6 1/2".
The Winfield Stabilizing Wheel Chock can be assembled in the two configurations shown.  These configurations allow the wheel chock  to be extremely effective for both narrow and wide tire spacing.
The configuration shown on the left is for trailers with tire spacing
1 1/4" to 4 1/2". When in this configuration the wheel chock has substantial mechanical advantage even when used with tire spacing as little as 1 1/4".
For trailers with tire spacing 4 1/2" to 6 1/2" the wheel chock should be configured as shown on the right. When configured as shown the wheel chocks can expand to be easily tensioned with tire spacing up to 6 1/2".
The Winfield Stabilizing Wheel Chock is not designed to be used as a wheel lock or parking brake. The wheel chock is only designed to and reduce unwanted trailer movement.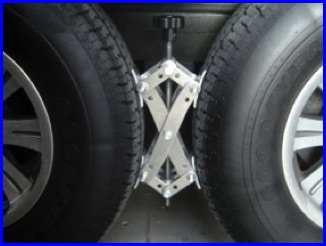 Price: The Stabilizing Wheel Chock is a great value at a suggested retail price of only $69.00. Order online to receive FREE shipping and handling to the Continental US.